CDs Page 2
Email your order to: mastersound123@aol.com (secured address) - We don't keep lists or send out sales data.
You can also send Paypal payments to this email address. CDs £10, DVDs £12 inc postage worldwide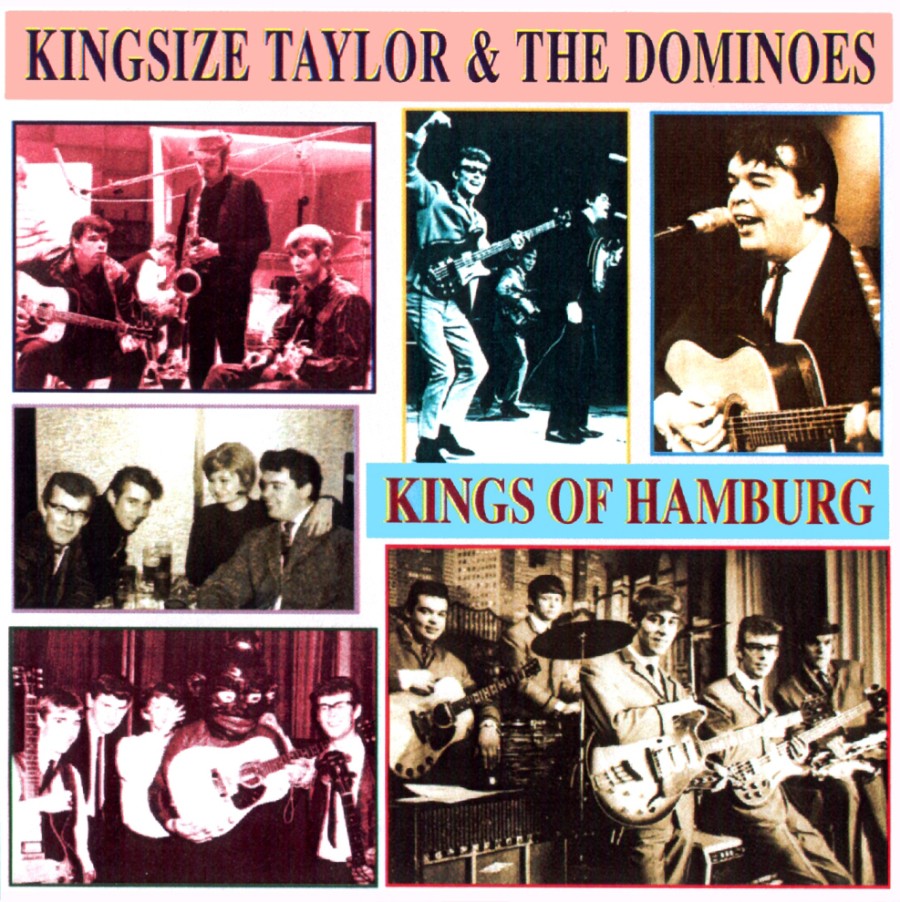 KINGS OF HAMBURG – Kingsize Taylor & The Dominoes
Taken from the original 1962 'Shakers Twistclub' German LP release, here are the tracks that made The Dominoes Germany's No.1 hit-making band. Includes vocals from Bobby Thompson and Sam Hardie. This is a definitive rock album of the highest quality.
STUPIDITY/ SHE SAID YEAH/ HIPPY HIPPY SHAKE/ I'M LATE/ TWIST & SHOUT/ THE SKYE BOAT SONG/ WHOLE LOTTA LOVIN'/ MONEY/ COUNTRY MUSIC/ HEEBY JEEBIES/ OO POO PA DOO/ THE WATUSI/ LET'S DANCE/ BROKEN ARROW/ LIPSTICK POWDER & PAINT.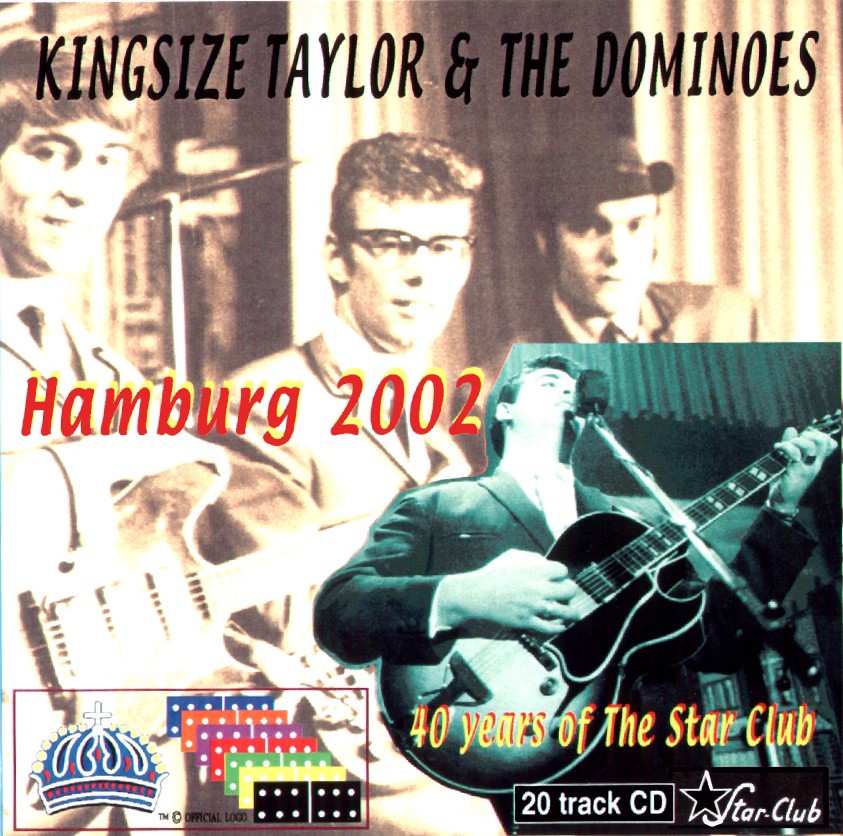 HAMBURG 2002 – Kingsize Taylor & The Dominoes
To celebrate 40 years since the Star Club opened, here are 20 great tracks selected by Kingsize and including one by special guest Chuck Berry.
Most tracks are taken from early 1960s singles and albums, recorded in Germany.
DIZZY MISS LIZZY/ DOMINO TWIST/ DOWN IN THE VALLEY/ MY GIRL JOSEPHINE/ SLOW DOWN/ TWIST & SHOUT/ SKYE BOAT SONG/ SHAKE SHAKE SHAKE/ I'M LATE/ BAD BOY/ SHE SAID YEAH/ STUPIDITY/ JOHNNY B. GOODE (with Chuck Berry)/ ALL AROUND THE WORLD/ FORTUNE TELLER/ SWEET LITTLE 16/ COUNTRY MUSIC/ HIPPY HIPPY SHAKE/ DR FEELGOOD/ LONG TALL SALLY.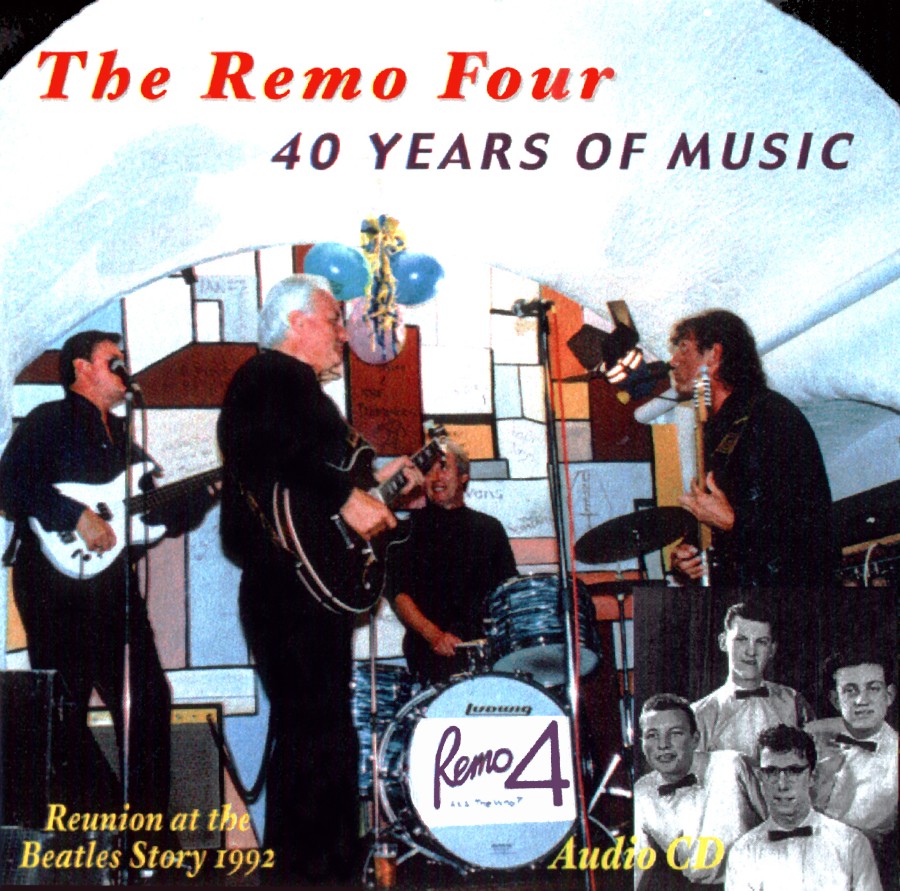 THE REMO FOUR - 40 Years Of Music
From archives, records and live concerts - this is the one and only CD of the group The Beatles admired more than any others. Featuring the late, great Colin Manley, the tracks cover the years 1961 to 1992. There are also live tributes to Colin and the group from a concert in Liverpool's Philharmonic Hall in 1999.
PETER GUNN/ I KNOW A GIRL/ YES/ LIES/ WILD SIDE OF LIFE/ WALK, DON'T RUN/ PERFIDIA/ HEARTBEAT/ RUNAWAY/ RAINY DAYS/ SLEEPWALK/
1961 - PERFIDIA/ WALK, DON'T RUN/ TRAMBONE/ THE STRANGER.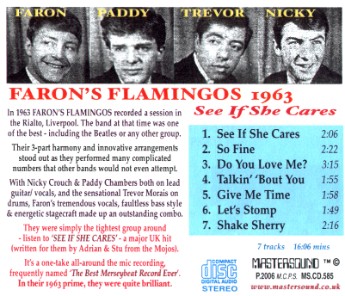 FARON 1963 – Faron's Flamingos
Including what is considered the 'best Merseybeat track', this is the early band, which featured great harmony work. Trevor Morais was on drums. Later, he moved to America and became a leading session drummer - he played on Tina Turner's 'The Best'. The talented Faron on Bass and Vocals was joined by Nicky Crouch and Paddy Chambers who played 'double-lead' and vocals. This was a really outstanding group, who should have gone on to major chart success.
SEE IF SHE CARES/ SO FINE/ DO YOU LOVE ME?/TALKIN' 'BOUT YOU/ GIVE ME TIME/ LET'S STOMP/ SHAKE SHERRY.