CDs Page 4
Email your order to: mastersound123@aol.com (secured address) - We don't keep lists or send out sales data.
You can also send Paypal payments to this email address. CDs £10, DVDs £12 inc postage worldwide
LIVERPOOL ROCK & ROLL SOCIETY – Rock & Roll Heart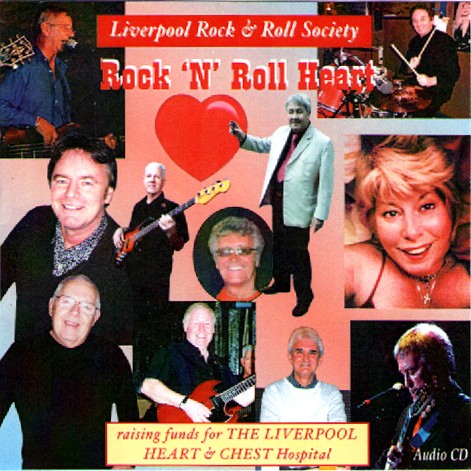 To draw attention to our marvellous Heart & Chest Hospital, who save thousands of locals every year (including many ageing Rockers) we put together an album of 20 songs with titles containing the word 'Heart'. Using a wide range of Merseyside's best, this is a fun album of celebration, raising funds for hospital equipment.
(Thank you very much for) MENDING MY HEART/ ROCK & ROLL HEART/ RAINING IN MY HEART/ WOODEN HEART/ THE HEART/ UNCHAIN MY HEART/ HEARTBEAT/ THAT'S WHEN THE HEARTACHES BEGIN/ HEARTBREAK HILL/ TAKE THESE CHAINS FROM MY HEART/ IT'S A HEARTACHE/ YOU'RE A HEARTBREAKER/ WHAT WILL I TELL MY HEART?/ ACHY BREAKY HEART/ SEA OF HEARTBREAK/ HEARTBREAK HOTEL/ CROSS MY HEART/ YOU GOTTA BABY MY HEART/ YOUR CHEATING HEART/ THERE GOES MY HEART AGAIN.
Mal Jefferson/ Mick Swift/ Shirley Ellis/ Rockin' Ronnie/ Peter Francis/ Billy Cookson/ Faron/ Les Williams/ Chris Prescott/ Mal Dixon/ Allan Schroeder/ Dave Taylor/ Mick Moon.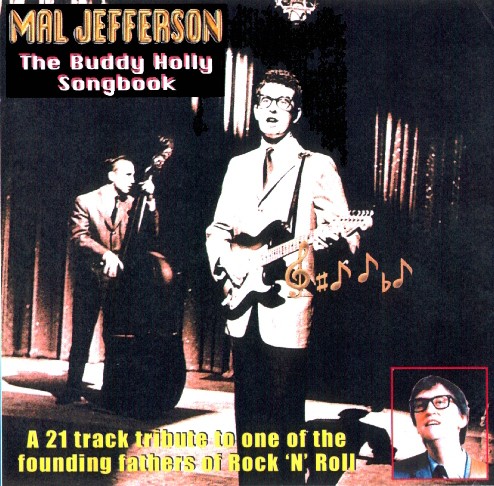 MAL JEFFERSON – The Buddy Holly Songbook
With 36 hits in 2 years of recording, Buddy Holly was a huge influence on all Merseybeat groups, particularly The Beatles, who named themselves after those other insects, The Crickets. Mal faithfully reproduces 21 of Buddy's best tracks.
MIDNIGHT SHIFT/ I'M A'GONNA LOVE YOU TOO/ MAYBE BABY/ PEGGY SUE GOT MARRIED/ BABY, I DON'T CARE/ VALLEY OF TEARS/ FOOL'S PARADISE/ EARLY IN THE MORNING/ RAINING IN MY HEART/ RAVE ON/ HEARTBEAT/ TEEL ME HOW/ EVERYDAY/ TRUE LOVE WAYS/ THAT'LL BE THE DAY/ IT DOESN'T MATTER ANYMORE/ LOOKING FOR SOMEONE TO LOVE/ BO DIDDLEY/ OH BOY!/ PEGGY SUE/ BROWN-EYED HANDSOME MAN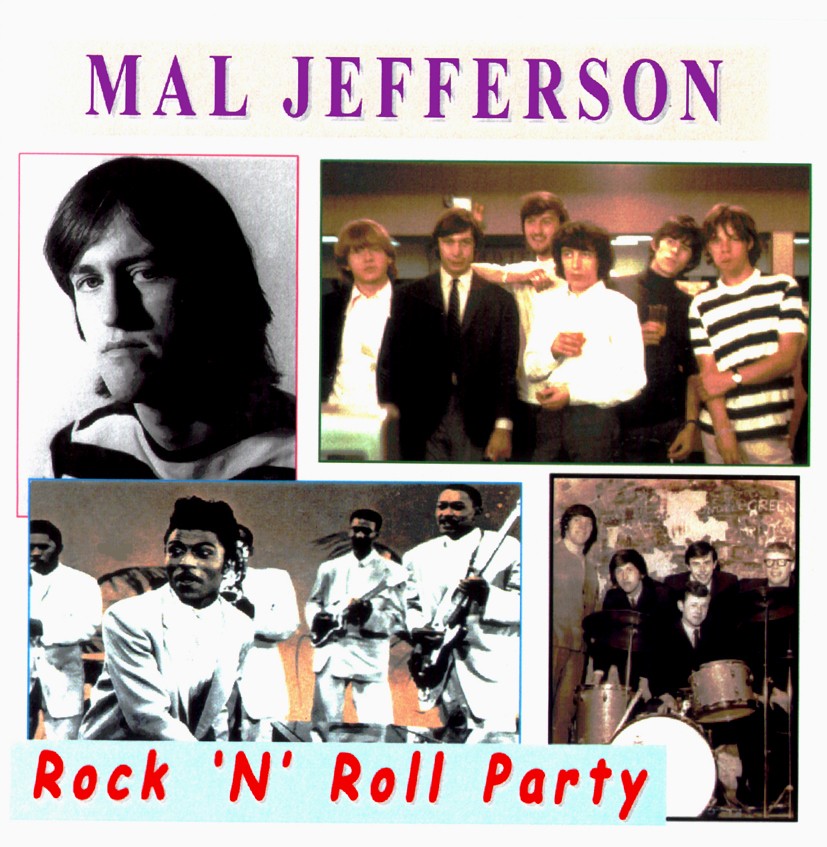 MAL JEFFERSON – Rock 'N' Roll Party
Mal picks and sings 20 of his favourite rock 'n' roll tracks to pay tribute to the innovators Little Richard and Fats Domino - and everybody else that followed on their coat tails.
SHAKE, RATTLE & ROLL/ GREAT BALLS OF FIRE/ LUCILLE/ ROCK & ROLL MUSIC/ BROWN-EYED HANDSOME MAN/ THAT'S ALL RIGHT, MAMA/ 20-FLIGHT ROCK/ BLUEBERRY HILL/ RAVE ON/ JAILHOUSE ROCK/ SWEET LITTLE 16/ GOOD GOLLY MISS MOLLY/ BO DIDDLEY/ HOUNDOG/ BLUE MONDAY/ HIGH SCHOOL CONFIDENTIAL/ LOOKIN' FOR SOMEONE TO LOVE/ MEMPHIS TENNESSEE/ THAT'LL BE THE DAY/ JOHNNY B. GOODE.
MAL JEFFERSON – The Remo Ride Again – Complete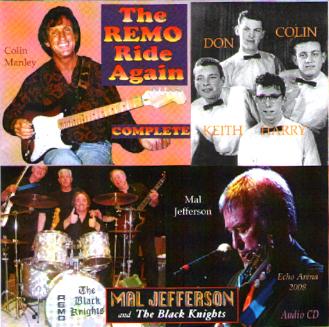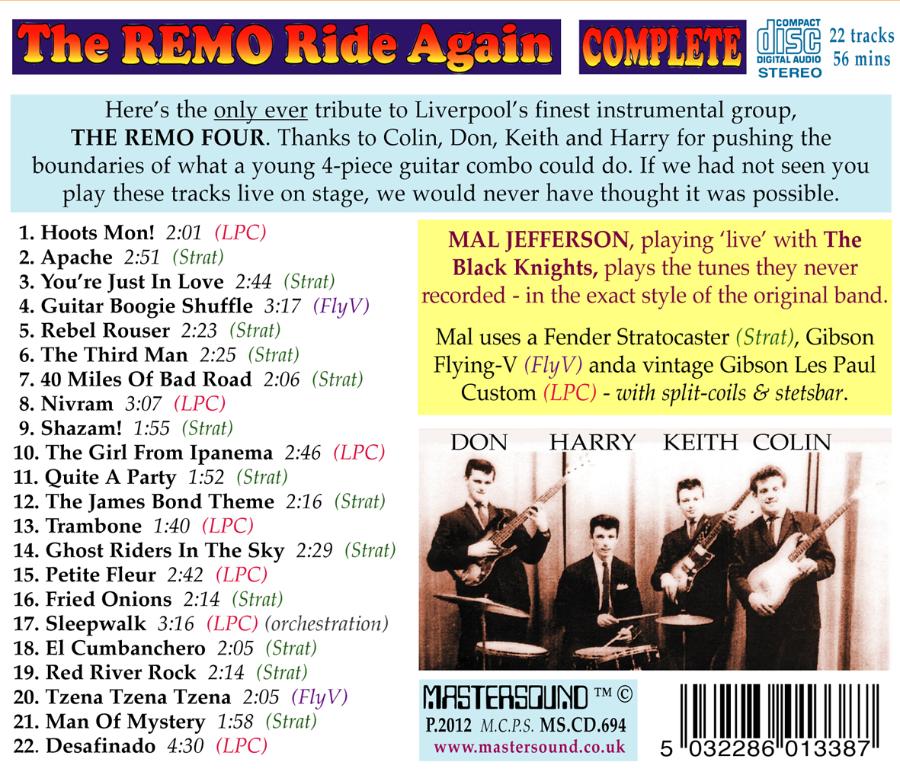 Colin Manley and the Remo Four inspired all the great Merseybeat groups in the early 1960s - particularly The Beatles. He specialised in the most difficult guitar instrumentals, played on his beloved Stratocaster.
Sadly he departed in 1999, leaving few recordings of his work. Here, his friend MAL JEFFERSON, with The Black Knights, reproduces 22 of his best in the exact style of the original group.
HOOTS MON!/ APACHE/ YOU'RE JUST IN LOVE/ GUITAR BOOGIE SHUFFLE/ REBEL ROUSER/ THIRD MAN/ FORTY MILES OF BAD ROAD/ NIVRAM/ SHAZAM!/ THE GIRL FROM IPANEMA/ QUITE A PARTY/ JAMES BOND THEME/ TRAMBONE/ GHOST RIDERS IN THE SKY/ PETITE FLEUR/ FRIED ONIONS/ SLEEPWALK/ EL CUMBANCHERO/ RED RIVER ROCK/ TZENA TZENA TZENA/ MAN OF MYSTERY/ DESAFINADO.
Here's thanks to Colin, Don, Keith and Harry for pushing the boundaries of what a young, four-piece guitar combo could do. If we had not seen you play these tracks live, we would never have believed it.
This is a best-selling album at local Liverpool outlets, including The Beatles Story museum - also on iTunes.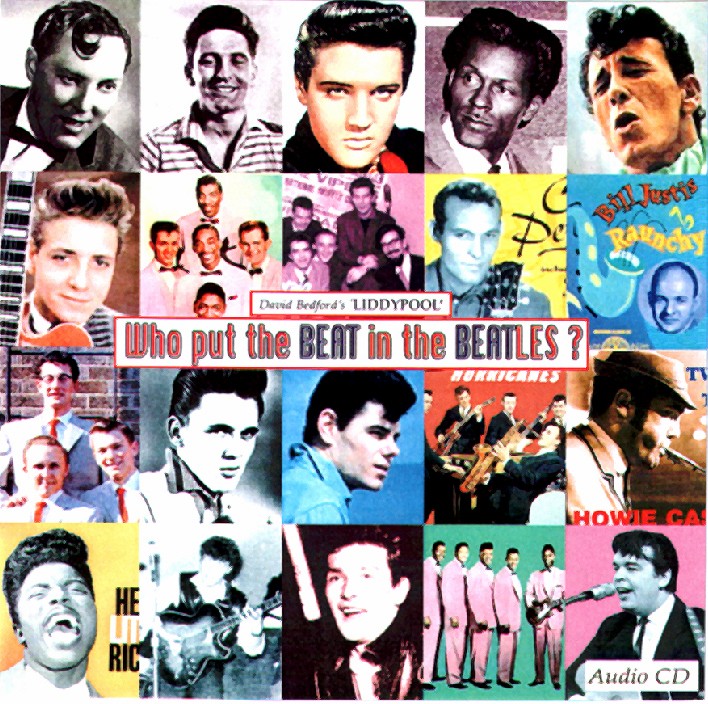 VARIOUS STARS – Who Put The Beat In TheBeatles?
Here are the 20 original recording stars who inspired the budding teenage Beatles.
ROCK AROUND THE CLOCK/ ROCK ISLAND LINE/ HEARTBREAK HOTEL/ ROLL OVER BEETHOVEN/ BE-BOP-A-LULA/ 20-FLIGHT ROCK/ COME GO WITH ME/ MAGGIE MAY/ MATCHBOX/ RAUNCHY/ THAT'LL BE THE DAY/ WONDROUS PLACE/ WENDY/ RED RIVER ROCK/ DOUBLE TWIST/ LONG TALL SALLY/ DO YOU LOVE ME?/ MY BONNIE/ SEARCHIN'/ TWIST & SHOUT.
Bill Haley/ Lonnie Donegan/ Elvis Presley/ Chuck Berry/ Gene Vincent/ Eddie Cochran/ The Del Vikings/ The Vipers/ Karl Perkins/ The Bill Justis Combo/ Buddy Holly & The Crickets/ Billy Fury/ Johnny Gentle/ Johnny & The Hurricanes/ Howie Casey with Derry & Freddie/ Little Richard/ Faron's Flamingos/ Tony Sheridan & The Beatles/ The Coasters/ Kingsize Taylor & The Dominoes.