CDs Page 1
MERSEYBEAT CDs
THE BEATLES COMPLETE 1962 – Live At The Star Club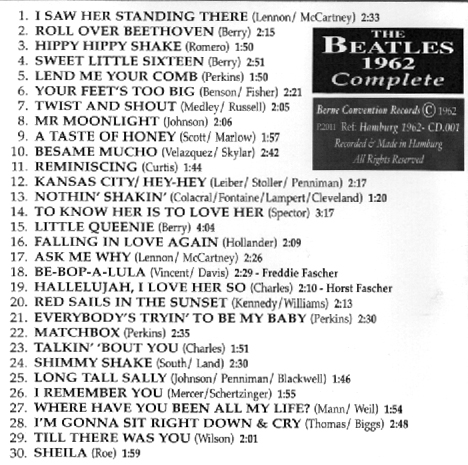 Imported from Germany from Kingsize Taylor's BERNE CONVENTION RECORDS,here are all 30 tracks that exist. Rough and ready, but with Ringo firmly in place, (and he was superb), this is the only recording ever made of their complete stage act. Listen to the banter, the atmosphere, the rawness that was to become the most successful band ever.
I SAW HER STANDING THERE/ ROLL OVER BEETHOVEN/ HIPPY HIPPY SHAKE/ SWEET LITTLE 16/ LEND ME YOUR COMB/ YOUR FEET'S TOO BIG/ TWIST AND SHOUT/ MR MOONLIGHT/ A TASTE OF HONEY/ BESAME MUCHO/ REMINISCING/ KANSAS CITY/ HOTHIN' SHAKIN'/ TO KNOW HER IS TO LOVE HER/ LITTLE QUEENIE/ FALLING IN LOVE AGAIN/ ASK ME WHY/ BE-BOP-A-LULA/ HALLELUJAH, I LOVE HER SO/ RED SAILS IN THE SUNSET/ EVERYBODY'S TRYIN' TO BE MY BABY/ MATCHBOX/ TALKIN' 'BOUT YOU/ SHIMMY SHAKE/ LONG TALL SALLY/ I REMEMBER YOU/ WHERE HAVE YOU BEEN ALL MY LIFE?/ I'M GONNA SIT RIGHT DOWN AND CRY/ TILL THERE WAS YOU/ SHEILA.
THIS IS MERSEYBEAT 1963
Recorded live at The Rialto Ballroom, Toxteth in 1963, here are 24 tracks that show many of the leading groups playing around the city at that time. The sound quality is very good and the variety of songs from the different combos show how adventurous our musicians were. It misses the heavy 'Beat' classics that the groups always did – Little Richard/ Fats Domino/ Buddy Holly/ Chuck Berry, but these bands were looking for record releases and the record company perhaps wanted something more lightweight.
It was a historic double vinyl album and a recording exercise that was never repeated.
Faron's Flamingos – LET'S STOMP/ TALKIN' 'BOUT YOU/ SHAKE SHERRY/ SO FINE Earl Preston & The TTs – THUMBIN' A RIDE/ HURT/ ALL AROUND THE WORLD Sonny Webb & The Cascades – YOU'VE GOT EVERYTHING/ EXCUSE ME/ BORDER OF THE BLUES/ WHO SHOT SAM? Merseybeats – OUR DAY WILL COME Nomads – MY WHOLE LIFE THROUGH Derry Wilkie & The Pressmen – HALLELUJAH, I LOVE HER SO Mark Peters & The Silhouettes – SOME DAY Rory Storm & The Hurricanes – DR FEELGOOD/ BEAUTIFUL DREAMER/ I CAN TELL Ian+Zodiacs – LET'S TURKEY TROT/ SECRET LOVE/ IT AIN'T NECESSARILY SO The Del-Renas – SIGH, CRY, ALMOST DIE/ NASHVILLE BLUES/ WHEN WILL I BE LOVED?
THE REMO FOUR – 40 Years of Music
From archives, records and live concerts - this is the one and only CD of the group The Beatles admired more than any others. Featuring the late, great Colin Manley, the tracks cover the years 1961 and 1992. There are also live tributes to Colin and the group from the Philharmonic Hall in 1999.
PETER GUNN/ I KNOW A GIRL/ YES/ LIES/ WILD SIDE OF LIFE/ WALK, DON'T RUN/ PERFIDIA/ HEARTBEAT/ RUNAWAY/ RAINY DAYS/ SLEEPWALK/
1961 - PERFIDIA/ WALK, DON'T RUN/ TRAMBONE/ THE STRANGER.
Email your order to: mastersound123@aol.com (secured address) - We don't keep lists or send out sales data.
You can also send Paypal payments to this email address. CDs £10, DVDs £12 inc postage worldwide