CDs Page 3
Email your order to: mastersound123@aol.com (secured address) - We don't keep lists or send out sales data.
You can also send Paypal payments to this email address. CDs £10, DVDs £12 inc postage worldwide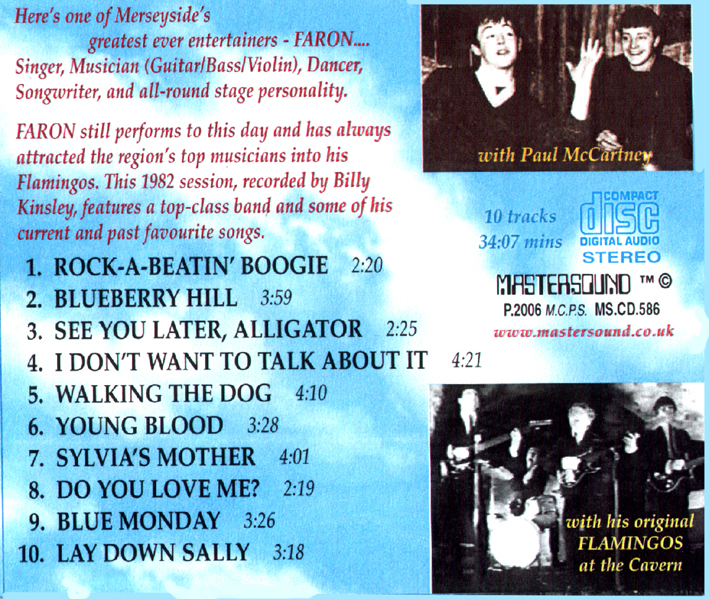 FARON 1982 – Do You Love Me?
Recorded in 1982 by Billy Kinsley, here's Faron with a selection of Rock 'n' Roll favourites. The band is made up of his regular local musicians, including Chris Evans on guitar and they do an excellent job.
ROCK-A-BEATIN' BOOGIE/ BLUEBERRY HILL/ SEE YOU LATER, ALLIGATOR/ I DON'T WANT TO TALK ABOUT IT/ WALKING THE DOG/ YOUNG BLOOD/ SYLVIA'S MOTHER/ DO YOU LOVE ME?/ BLUE MONDAY/ LAY DOWN SALLY.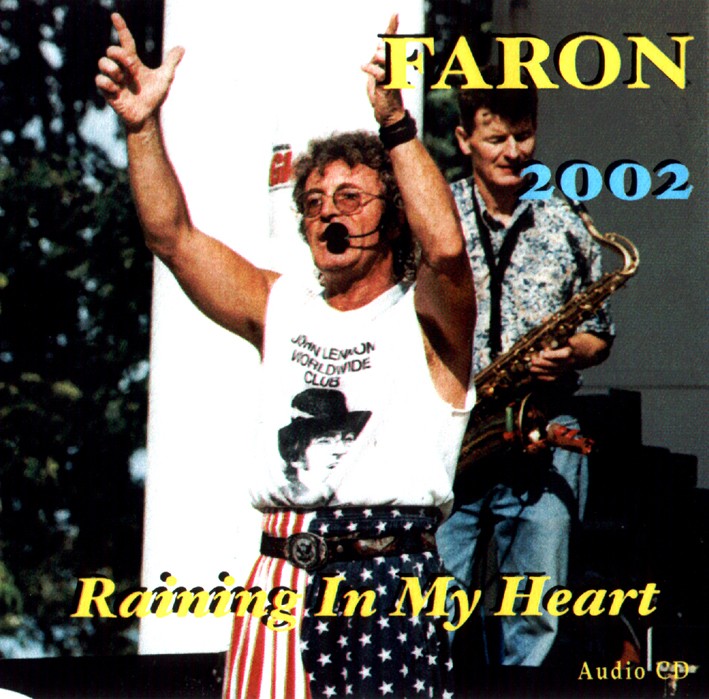 FARON 2002 – Raining In My Heart
Produced at Mastersound Studios in 2002, Faron includes some Buddy Holly & Doctor Hook songs as well as live tracks recorded over recent years.
RAINING IN MY HEART/ I CAN TELL/ HAVE I TOLD YOU LATELY?/ THE ANSWER TO EVERYTHING/ HEARTBEAT/ I DON'T WANT TO TALK ABOUT IT/ A LITTLE BIT MORE/ SOME OTHER GUY/ MY HAPPINESS/ YEARS FROM NOW/ CRAZY/ IF NOT YOU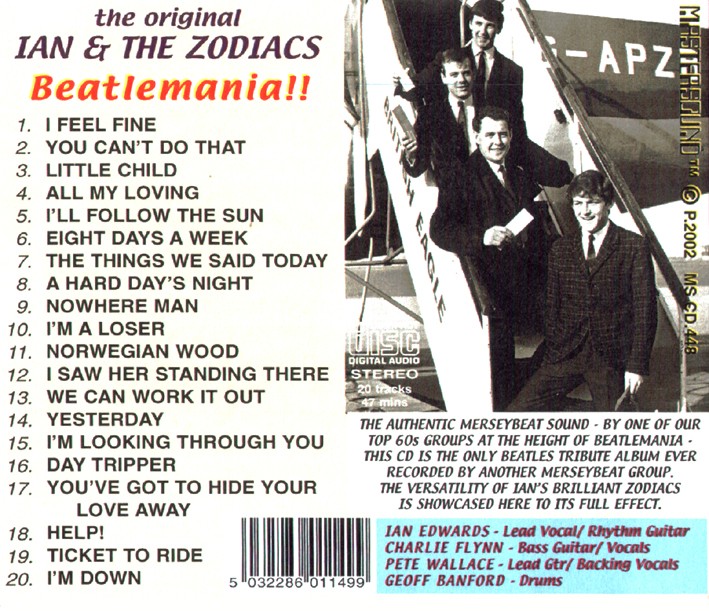 IAN & THE ZODIACS – Beatlemania
Specially recorded in 1965 for the German market, this fantastic tribute to The Beatles is the only one ever done by a Merseybeat group. You will be hard pressed to tell them apart - some tracks are quite stunning. This was a very accomplished 4-piece band. I FEEL FINE/ YOU CAN'T DO THAT/ LITTLE CHILD/ ALL MY LOVING/ I'LL FOLLOW THE SUN/ 8 DAYS A WEEK/ THINGS WE SAID TODAY/ A HARD DAY'S NIGHT/ NOWHERE MAN/ I'M A LOSER/ NORWEGIAN WOOD/ I SAW HER STANDING THERE/ WE CAN WORK IT OUT/ YESTERDAY/ I'M LOOKING THROUGH YOU/ DAY TRIPPER/ YOU'VE GOT TO HIDE YOUR LOVE AWAY/ HELP!/ TICKET TO RIDE/ I'M DOWN.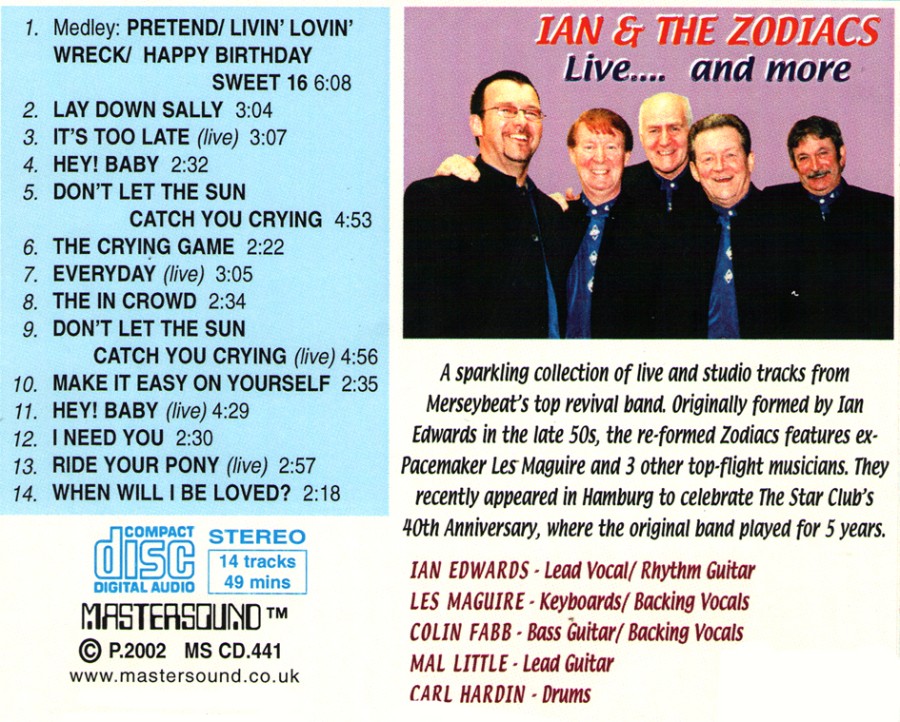 IAN & THE ZODIACS – 'Live'… And More
Recorded with a reformed band in the 1990s, and featuring the brilliant keyboard master, Les McGuire, from Gerry's Pacemakers, plus Mal Little on Guitar, here's an excellent live album from an outstanding group of musicians.
PRETEND/ LIVING LOVING WRECK/ HAPPY BIRTHDAY SWEET 16/ LAY DOWN SALLY/ IT'S TOO LATE/ HEY! BABY/ DON'T LET THE SUN CATCH YOU CRYING/ THE CRYING GAME/ EVERYDAY/ THE IN CROWD/ MAKE IT EASY ON YOURSELF/ I NEED YOU/ RIDE YOUR PONY/ WHEN WILL I BE LOVED?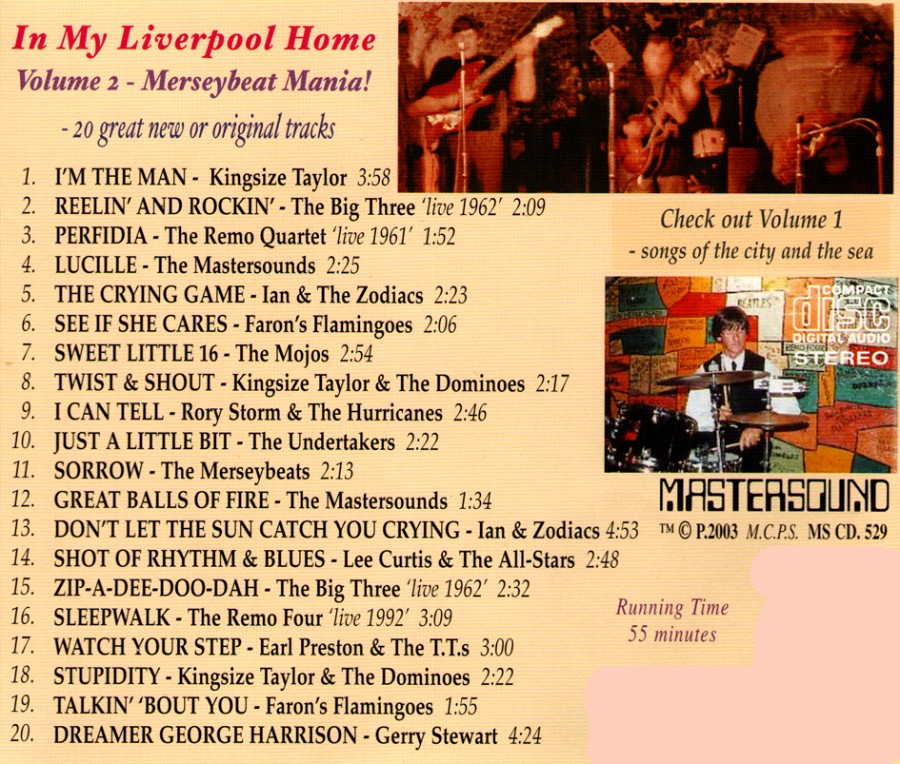 MERSEYBEAT MANIA – In My Liverpool Home Series – Vol. 2
A collection of original and re-recorded Merseybeat standards featuring a wide selection of stars of that era.
I'M THE MAN/ REELIN' & ROCKIN'/ PERFIDIA/ LUCILLE/ THE CRYING GAME/ SEE IF SHE CARES/ SWEET LITTLE 16/ TWIST & SHOUT/ I CAN TELL/ JUST A LITTLE BIT/ SORROW/ GREAT BALLS OF FIRE/ DON'T LET THE SUN CATCH YOU CRYING/ SHOT OF RHYTHM & BLUES/ ZIP-A-DEE-DOO-DAH/ SLEEPWALK/ WATCH YOUR STEP/ STUPIDITY/ TALKIN' 'BOUT YOU/ DREAMER GEORGE HARRISON.
Kingsize Taylor/ Big 3/ Remo/ Mastersounds/ Ian + Zodiacs/ Faron/ Rory Storm/ Undertakers/ Merseybeats/ Lee Curtis/ Earl Preston/ Gerry Stewart.